Everyone who knows me will know every single year, I definitely will go to Bangkok. Beside shopping, I will pray to 4 faced Buddha at Erawan Shrine, then head to Central World Plaza and pray to Phra Trimurti & Ganesha. I'm not a Buddhist, but I have been faithfully praying to them over the years.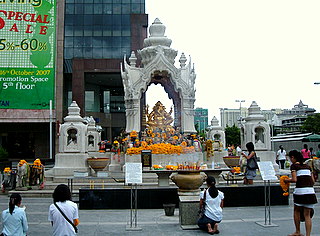 Ganasha Shrine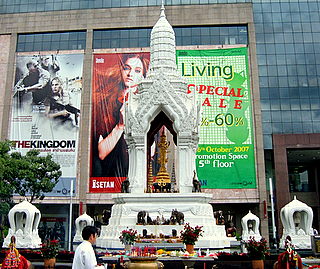 Phra Trimurti Shrine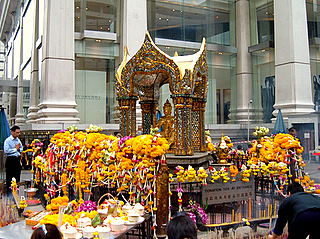 4 faced Buddha Shrine
** Photo taken from http://www.tour-bangkok-legacies.com/bangkok-shrines.html
Alot of people comments that 4 faced Buddha at Erawan Shrine is very good at fulfilling wish. Personally I only wish for good health for my grandpa and he died at the age of 83. But I can say Phra Trimurti is very good as he did "give" me my awesome bf who loves, cares & adores me to the max. Surprizingly not much people (except Thai) knows about him.
In Thai, Phra Trimurti is the God of Love. If you have any love, family or relationship problem, you can pray to him. I always went to the nearby road stalls to buy the offerings. Red incenses, red candles and a bouquet of roses which cost about baht120 (if I remember correctly). I'm not sure whether I pray in the correct manner because the instruction is in Thai and sadly I can't read Thai. So I "agar agar" learn from the locals by peeking at them.
First I will light my 2 red candles & incense. I put 2 red candles at the shrine and went to the front of the shrine holding my roses and incense and pray to to him. I will say my name & address, follow by my wish and if my wish come true, I will come back & pray to him next year. Then I poke the incense in the pot and placed the roses on the shrine. Oh ya, I will also give some donation too.
I can't guarantee everyone who prays to him will get the wish because I guess it depends on your sincerity. I have a friend who bought his amulet and wear it everyday (as per what I know). But her luck isn't as good as mine. She did find a bf, but there's always quarrelment and unstability in the relationship.
Nevertheless for me, I swear that Phra Trimurti really works for me. And I still pray to him everytime I go to Bangkok (which happens every year). My next trip will be in October which next month *YEAH!*